REFRESHING YOUR BEAUTY SENSES

We have been making Lichfield even more beautiful since 2007.
Welcome to Citrus Spa, our City Retreat nestled into Church Street in the historic City of Lichfield. We are Lichfield's Premier Beauty Salon & Skin Centre. We are fully committed to providing our customers with the best experience, following our mantra, "FEED, FORTIFY, FINISH".
We FEED your wellbeing with our extensive range of holistic body therapies and also our Advanced Nutrition Programme beauty supplements.
We FORTIFY with Environ Skin Treatments. We believe in beautiful skin for a lifetime and our salon is home to Professional Skin Treatments like no other.
We FINISH with our Jane Iredale Skincare Makeup and add a gloss of unrivalled colour with our OPI Gel Manicures and Pedicures.
Our comprehensive treatments menu also includes waxing, threading and tinting services, for a real top-to-toe experience. Feed your wellbeing and let us refresh your beauty senses. We look forward to seeing you soon.


Face The Future
Environ is a globally recognised & loved Professional Skincare Brand that is built on science, beauty & care. We believe that skin has a life & that Vitamin A is the 'oxygen' it needs to look beautiful & healthy for life.
The introduction of Vitamin A into skincare formulations was a ground-breaking development. Dr Des Fernandes, rated among the top five plastic surgeons in the world, was a pioneer in this field in the 1980's and was the first to successfully use Vitamin A & antioxidants in a cosmetic product.
Since Dr Des founded Environ in 1990, Vitamin A has become the cornerstone ingredient in the Environ Skincare philosophy. It is an essential nutrient that has to be replenished everyday for skin to appear healthier & more resilient. Combined with other essential nutrients like antioxidants & peptides, the long-term enhancement of the appearance of the skin becomes clearly visible. Backed by constant research, new & even more effective products are continually being introduced to the Environ range.
As a GOLD stockist, we are proud enough to recommend these products to the people who matter the most in our lives. If we weren't, we wouldn't use them.
Environ uses the power of beautiful science to create products that make a real difference to people's lives. The 100+ international awards continue to recognise the brand for outstanding products, which is why Environ is favoured by international skincare therapists, the medical fraternity, beauty editors, aestheticians & film stars.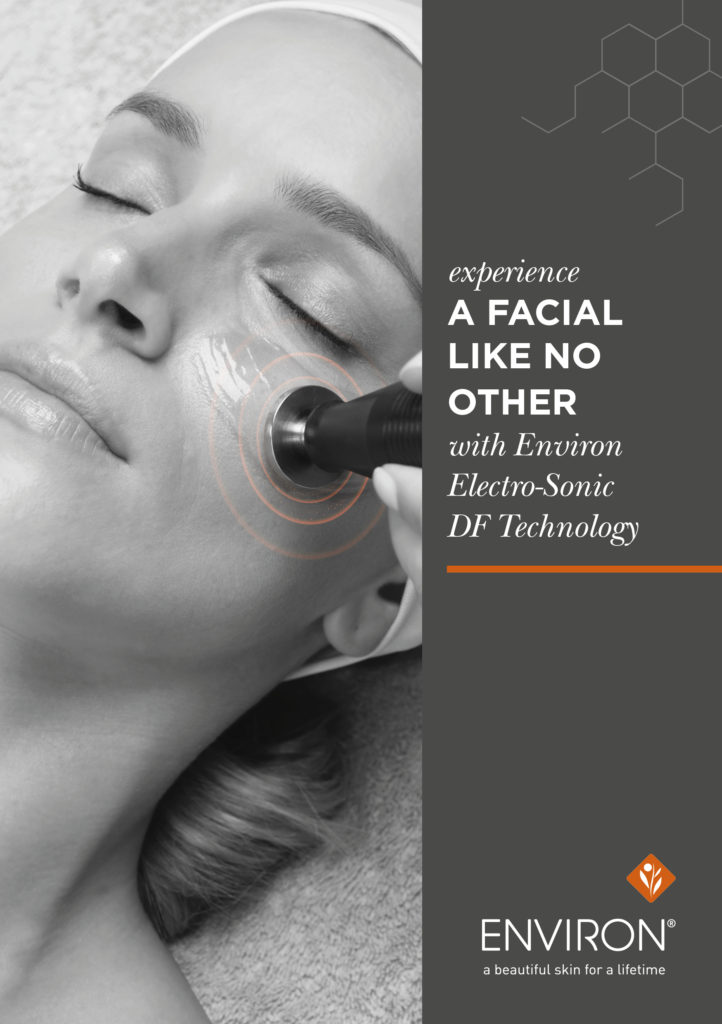 Environ Cool Peel Skin Treatment
Environ have created a unique and effective cool peeling skin treatment to help with signs of ageing and problematic skin conditions with no damage to the skin health & no downtime afterwards unlike traditional peels.
It works on repairing skin cells rather than destroying them. With low pH levels the skin will release grow factors which will;
*Tighten and smooth out skin texture
*Boosts skin hydration
*Destroys bacteria
*Removes build up of dead skin cells
*Decongests the surface of the skin
This treatment is perfect for anyone who has concerns with lines & wrinkles, rough or problematic skin, sun damage and rosacea.
£60
*For Optimal results we recommend a course of Professional Skin Treatments ( 1 a week for 6 weeks)
* Clients must be acclimatised to Environs Vitamin A cream for at least 3 weeks.
Call or book online now!